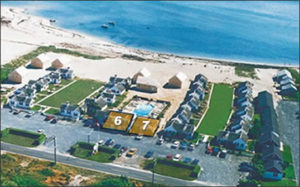 Two Room King Efficiency Suite (area 6)
The Two Room King Efficiency Suite includes a bedroom with a king size bed – set closest to the swimming pool – and a combination living / dining room with two sofa / high risers which can sleep an additional 1-3 persons. A kitchenette featuring a counter height refrigerator / freezer, stovetop, and microwave, separates the two rooms. Ideal for 1-4 persons. Can sleep 5 using sofa beds.
Three Room Efficiency Suite (area 7)
Occupying the entire right wing of the charming Central House at Kalmar Village, this is our largest efficiency suite. A private entrance opens into a small common area which joins together the three rooms of the suite. One room is comprised of a combination living/dining area with a trundle-style sofa which can sleep two, and a dining table with chairs. A kitchenette, with a 2-burner stove, refrigerator and microwave opens off of this space. There are two bedrooms, each of which has a full bath attached. One bedroom has a queen-sized bed; its full bath has a combination tub/shower. The other bedroom has two double beds and the attached bath includes a stand-up shower. Ideal for 3-6 people; can sleep up to 8 using sofa beds.
.