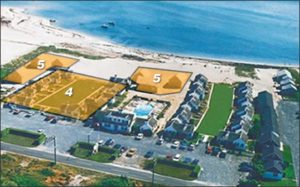 Three Room Cottages (area 4)
Arranged around the resort's southern grassy courtyard, our classic three-room cottages are similar in overall size to the two-room cottages, but have a different layout to accommodate a second bedroom (resulting in a smaller living room area than the two-room cottages). The living room includes a trundle-style sofa bed and dining area, and the kitchen features a full-sized refrigerator and range, microwave oven and ample counter space. In one bedroom, you'll find two twin-sized beds and in the other is a queen bed. The full bathroom includes a stand-up shower.  Ideal for 1-4 people; can sleep 5-6 people using sofa beds.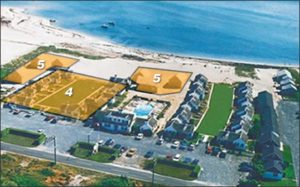 New Three Room Waterfront Cottages (area 5)
These three-room cottages are the newest units on the property and have approximately 30% more overall space. In most cases, they're also located closest to water. Several are set directly on the beach and have commanding views of the ocean. The spacious living area includes comfortable seating and a dining alcove with wraparound windows. The kitchen has a full-sized range and refrigerator, and a microwave. In one bedroom is a queen-sized bed and in the other are two twins. An attached, private deck includes a picnic table and outdoor furniture, and a charcoal grill.
.